I'm sitting here looking at your lovely dick and wishing I could get up close and personal for a proper taste! Nice, straight shaft, up and ready for attention! I love how neatly trimmed you are. Just the perfect amount of hair to frame that picture perfect cock. You look like you're just the right length for me, I'm fairly small with a tight pussy and that stout cock of yours will fit me just perfectly. You've got the girth to fill me up real nice and stretch the walls of my tight tunnel. There aren't many things better than a nice fat cock to ride and and yours is just calling out for me to sit on it. Your balls are the perfect size for me to cup in my hands while suck you off. I can almost feel your thick meat in my mouth now, getting you slick and ready to pound my hungry cunt. What's your favorite position, baby? I know whatever it is, you and your great cock will not disappoint. The head is slightly smaller than the shaft which just makes it that much nicer when you enter me and I can feel every inch get wider until you're in me to the hilt. You have the perfect cock to start off sliding in nice and slow at first, teasing my quivering pussy until you totally fill me up. Once you're in, I'd love for you to fuck me nice and hard until you fill me with your hot cum. As enticing as that hot package of yours is, I'm sure I'd be up for extra rounds! 4/5 – Great dick!
ash
---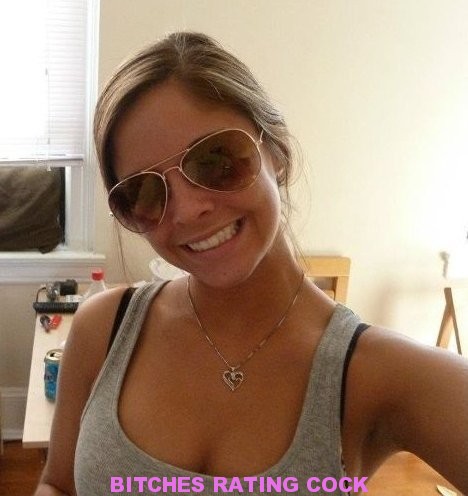 Alyssa's Cock Review:
I'm pretty impressed by this fat fuckstick right here! The head is a bit smaller than I'm normally used to, but that thick shaft really has my attention! Extremely veiny which I like. I like my cocks nice and bumpy like this one. Your pubes are decently trimmed which makes me more excited to take that delicious looking meat in my mouth and really give you some proper attention! I like how your balls are proportionately sized, nice and perfectly round and close to your body. Would love to reach down and give them a gentle tug in rhythm to the motion of you fucking me as you take me from behind. Maybe you could bend me over the couch you took this picture at. I'd definitely be happy to distract you from your work for a little while… It'd be great if you would titty fuck me so I can admire that thick shaft sliding up and down between my full, firm breasts. I'd have fun giving the head a playful flick with my tongue with each thrust. I'm positive we would have a great time together figuring out how many different ways we could tease and please each other. You've got the perfect tool to really give me a great dick down and I'd happily oblige fulfilling your every desire. It would be awesome to straddle you at your desk and sit on that girthy cock of yours. I'd love you to bounce me on your cock while you suck and nibble on my hard nipples. Mmm mmm…I'm getting wet and thinking about it makes my clit throb at the idea of hot, fat dick pounding away inside me. Thanks for the fantasy! 3.5/5 – Totally fuckable
alyssa
---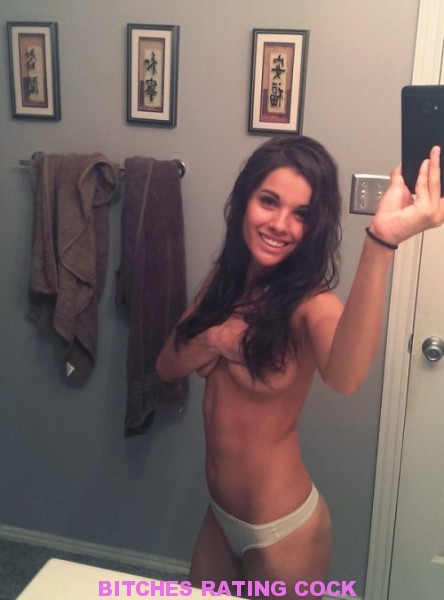 Olivia's Cock Review:
Loving the width on this fine specimen. Mushroom cap is fucking huge! I tend to prefer guys who are more clean shaven than this, but your dick has plenty of other yummy attributes that make me willing to let that slide. Correct me if I'm wrong, but from your pic, it looks like your trimmed bush is a bit on the hairy side…do the carpets match the drapes? (hee hee) You're just long enough to get deep inside my wet, willing pussy, and nice and thick to stretch me out and completely fill me up. I like that your balls are nice and tight to your body, definitely not saggy and swinging low. I think my attention will be focused mostly on that thick, juicy mansteak of yours though. I really enjoy guys with thick cocks and yours has a good diameter to it. I'd love to slob your knob and wrap my lips around your thick shaft. I love the feeling of a hot, hard cock in my mouth. I like the texture the bige veins in your dick make. I love super prominent veins, rub my pussy just the right way to feel those bad boys, so yours is just right in that aspect. Given how wide you are, I think it would be great if you would give my pussy a nice, slow fucking. I'm pretty tight and haven't been with many guys, so you have to be gentle with me. I can tell you'll fill me to near capacity and having your fat cock slowly moving in and out of me will drive me wild until you build me up to deep, earth shattering orgasm that will leave your dick slick and wet with my sticky, sweet juices. After that, you can pull out and let me lick you clean. I'll suck you off until you get off yourself and I'll drink every last drop of hot spunk that comes out of your delicious dick. I'm sure we could hit repeat on that scenario all night long and never stop having fun. I bet you're the kind of guy who can keep up the stamina and I'm sure your cock is always raring to go. I'm sure we could suck and fuck each other til the cows came home and keep it hot and heavy nonstop! Show me what you've got stud! 4/5 – Nice cock
Liv
---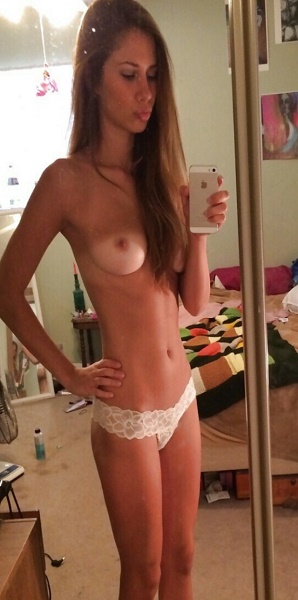 Katie's Cock Review:
Here's a nice straight shooter. I like how you're pretty blessed in the length department, but even more impressed at the width of that hard tool of yours. I'd love to feel the heft and thickness of it in my hands while I'm swirling my tongue around that smooth head. I'd suck the full length of it getting you just to the brink of blowing your load, squeezing your taut,full balls in my hands. Then you can kiss your way down my body, stopping only to suck and gently bite on my erect nipples on your way to my hot, wet slit. You can return the favor of oral pleasure there until I can't take it any longer and beg you to slam that big, hard cock into me. You stretch me open with you girth, but my pussy quickly accommodates to your size since you've gotten me so wet and ready. I love the way your balls feel slapping against my ass as you fuck me faster. You put my legs over your shoulders so you can really get in deep. I can feel your closely trimmed pubes tickle the swollen lips of my pussy as you bang me out. I hope you're not too much of a tease, because I can tell you'd have me climbing the walls. Your dick is so big and tempting, I wouldn't be able to wait to have it in me and feel you giving it to me nice and hard. Whisper in my ear how much you love fucking my tight pussy and I'll cum so hard for you. Seeing my juices glistening off your lovely cock would put such a big smile on my face. I want to watch you stroke your dick to finish yourself off, and blast your hot jizz all over my perky tits. Money shots like that always make my day. I'm sure you'd keep me and my pussy happy for hours. I can't give this gorgeous cock enough praise, one of the best I've ever seen. 5/5 – What a stunner!
kate
---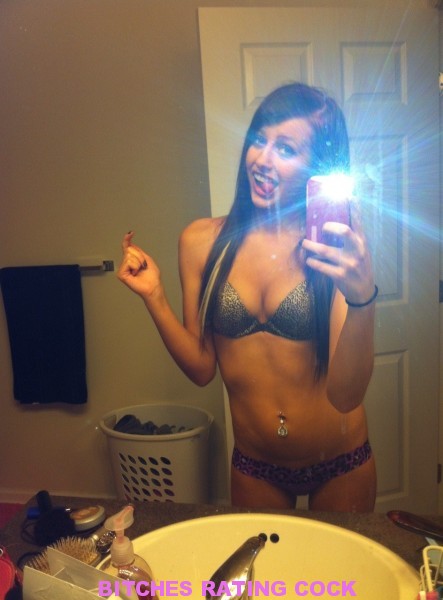 Kayla's Cock Review:
Hey doll! Your impeccable penis is just begging for some oral attention! Sucking cock is my favorite thing to do in the bedroom, and I would suck yours until you're weak in the knees, baby. Nice and trim shave job which makes my job easier. I'll tease and tongue your balls which are perfectly shaped by the way, until your dick is nice and hard for me. How about I start at the base, and slowly trace my tongue all the way up your thick shaft? Then I can give that helmet tip a nice swirl job. I like how smooth it is, just asking for my lips to be wrapped around it. Once I'm done tongue teasing you a bit, I'll slowly slide that big, fat cock all the way in my mouth. Given your size, it's a good thing I'm good at deep throating, because that's the only way I'm getting every inch of that impressive member into my eager mouth. I promise not to forget to cup and stroke those balls of yours and even press that special spot just behind them to really make your toes curl! You can lie back and enjoy me servicing you baby, because sucking hot cock like yours is one of my favorite pastimes! I'm getting so wet and horny right now thinking about filling my mouth with that tasty looking dick. I know I'd be rubbing my clit furiously whilst sucking you off, because I'd be so hot myself just from pleasing you with my tongue. Nothing beats a good face fucking, and I know you won't let me down. I wish I could suck you all night long, but I'd be so into it, my over zealous mouth skills would probably ensure you didn't last too long! I'd surely gobble up every inch of that gorgeous cock. The only thing that would get me hotter than sucking that thick, luscious cock of yours would be swallowing your hot cum. I'll happily let you blast every bit you've got down my throat. Nothing would make me happier than to spend my evening sucking you to full satisfaction. Wish I could enjoy all your thick deliciousness right now, guess my fantasies will have to suffice for now. (wink) 4.5/5 – Fantastic and sexy member!
kay
---
>>>> SUBMIT YOUR DICK FOR 5 BITCHES TO REVIEW! <<<<
Keep It Private or Choose To Get Posted…
Email your Dick, Pussy, Girl, or Cumshot to Us!
---
>>>> SUBMIT YOUR DICK FOR 5 BITCHES TO REVIEW! <<<<
Keep It Private or Choose To Get Posted…
Email your Dick, Pussy, Girl, or Cumshot to Us!
---
The American Cock Rating Council
Let 10 American women of all ages, give honest opinions of your hard cock!