That's quite the plump head you've got there. And you're nice and mushroom shaped so you won't have any foreskin getting in the way of my tongue. Mmmmh and your cock has some tasty ridges on it too, I love a cock that has rough cover on it that will really stimulate my sensitive little hole. And your shaft looks ok thick too so it'll really fill me up. From the looks of it, it seems like the top half of your shaft is a bit thicker than the bottom half which is great for fucking hard and fast, my favorite kind of fucking. And from what I can see of your balls they look perfectly sized for me to suck on and play with. But what I really like about your cock is that it looks lubed up and ready for action. I wonder how you got it nice and hard, big boy ;p. Overall you've got a really nice cock on you from your head to your balls this is one cock I wouldn't mind getting the chance to play with. 3/5
ash
---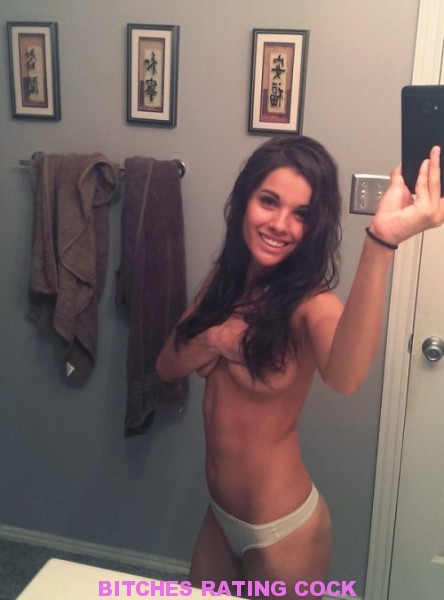 Olivia's Cock Review:
Ooooh, you know what your cock has that sets it apart and makes it great for fucking? The angle of your shaft! Honestly, the way it points would make it way more fun to fuck you in a lot of positions that just wouldn't be as good with a different cock. Seems like your cock is hung at that perfect angle that lets you stroke my g-spot even while fucking me from behind, and lord that would feel amazing. And hey, maybe that's not every girls cup of tea, but I bet they just haven't tried it yet. Honestly, I don't know why cocks like yours aren't more sought after and desired. The angle of your shaft would make it easier to deep throat you. If you fuck me after I suck you off, which I would love so much. 3.5/5
Liv
---
Katie's Cock Review:
Mhmmm, ok, this is definitely a cock I can work with. You must be, what, 5 inches? More? That's perfect for my tiny little cunt. It's also big enough for me to wrap my hand around it and stroke you, but my hand wouldn't cover up your head so I could still suck on it and kiss it. And the photo you sent is at that perfect angle where I can easily imagine myself kneeling down in front of you to suck you off. My lips wrapped around your shaft, your head sliding towards my throat right as I'm about to deep throat you. I just wish you sent more pictures. I really like what I'm seeing of your cock now and I want a few more pictures to go off of, and maybe get off to ;). But I'm already getting a lot of fun ideas, and a few naughty ones, just looking at your cock in this one photo.  2.5/5
kate
---
>>>> SUBMIT YOUR DICK FOR 5 BITCHES TO REVIEW! <<<<
Keep It Private or Choose To Get Posted…
Email your Dick, Pussy, Girl, or Cumshot to Us!
---