First off, thanks for this very suggestive pic. It is very easy for me to imagine bending over this dick allowing you to feed my hungry slutty mouth directly with this juicy dick… There is something about this angle and the lighting that makes me feel very naughty.. Like we just met and we're naked to The Weekend… Let me bow down to this cock head. It is so fucking hot babe with that thick rim between your head and shaft. I wanna flick my tongue up and down over that ridge, watching your soft cock get hard and hard, those veins getting bigger and bigger as your cock swells beneath me.. Your cock seems to be a good length and width. I can tell because I have been in this angle before.. 😉 I would say you are a good 6 -7 inches long and three fingers wide.. In high school I would have called that the four year club… 😉 I wish I could get a better glimpse of those balls in their natural state.. Flush and full, hanging, swinging and plump. I am really into the way that you have groomed yourself as well. The whole package has me interested and makes me want to get down and dirty on that dick. Overall, you have won me over. I am hoping that I get to see this cock in action some day, or at the very least, get other angles to rate so I can fantasize more about you 😉 5/5
ash
---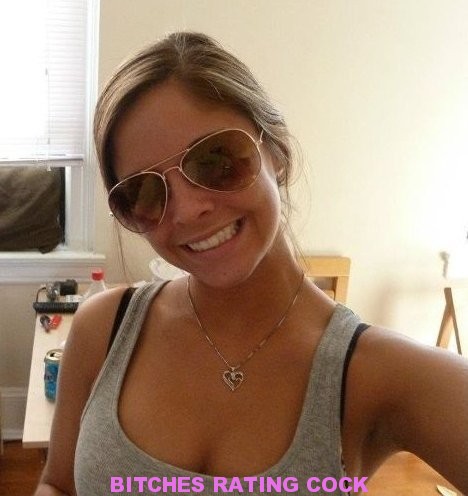 Alyssa's Cock Review:
Woah there Rocky, talk about a flash pic.. Really brings out all the angles and details in that cock! First off Rocky, I know you keep your jock well groomed… quite possibly that you shaved just before this picture….? Your cock head is very unique. It is plump and then it goes off on the sharpest downward slope that would catch a professional skiier off guard. The rim of your head is very well pronounced because of this. I am trying to think of how good this would feel inside me… a nice plump cock head with a large rim, catching all the best parts in my pussy, driving me wild… Okay, let's get back on track with the rate… It's hard for me to judge the exact length and width of this cock because of the angle… you are clearly trying to get me to imagine what it looks like when my face is nearing it, lips opening to receive you… your hands playing with those shaved balls, showing off your shiny manhood 😉 Forgot to say babe that this cock is prettty damn veiny. That is one god damn plus in my book. The more the merrier in my opinion! Overall, I can imagine having a good time with this dick. I wish I could rate the length and width more accurately, but let's just say you are an average jock with unique characteristics that rate it higher than average. Next time submit for us a straight on pic, let me fantasize about what angle I would like this cock the best 😉 4.5 / 5
'lyssa
---
5 COLLEGE GIRLS GIVING HONEST OPINIONS YOUR DICK!
GIRLS GIVING HONEST OPINIONS YOUR DICK!
5 COLLEGE GIRLS GIVING HONEST OPINIONS YOUR DICK!